Has anyone been here? Looks like worth checking out.
Ancient Grove of Western Red Cedars - Ross Creek Cedars - near Libby, Montana, MT
http://www.youtube.com/watch?v=Hvx3K8bAyhY
Hang onto your hats as we accelerate up the four mile logging road to the Ross Creek Cedar Grove in NW Montana. Join our family as we make our way through the relaxing, self-guided nature trail. Marvel at the awe inspiring splendor of the Western Red Cedar Trees. Some of the massive trees are over 200 years old, 175 feet tall and 8 feet in diameter! Watch for the signs pointing you towards the "Cedar Chimney", the "Wrestlers" the "Fairy Den", and the "Twins". What a great way to spend a cool, peaceful afternoon shaded from the hot summer afternoon sun. Watch our kids being kids on the fallen giant trees.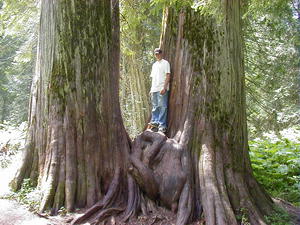 Here is a link to a website about the place:
http://www.libbymt.com/areaattractions/rosscreekcedars.htm
Ross Creek Cedars Kootenai National Forest, MT
http://www.fs.usda.gov/recarea/kootenai/recreation/picnickinginfo/recarea/?recid=66084&actid=70
.