Joe wrote:

or maybe not---

Joe
We're going to burn down the Earth's ecosystems as we have known them. The human-caused Sixth extinction will continue apace until we, too, are gone. It's coming and there's not a damned thing than can be done to stop it. I am wholly convinced of this fact. All you have to do is look at what has happened to Earth since I was a kid. There has been an ongoing, inexorable, and unstoppable destruction of the natural world by humans. If you think that we'll stop burning fossil fuels before the last drop of oil has been pumped out of the crust, or the last chunk of coal has been peeled out of the rock and burnt, or the final liter of natural gas has been fracked, then you are fooling yourself. The forests will all be felled, their animal inhabitants killed and eaten; the rivers fouled beyond description; the aquifers despoiled; the soil poisoned beyond reclamation.

Sorry to be the bearer of bad news, but I have yet to see one goddamned shred of evidence that this is not the way things are going to end up.

Twenty years from now there won't be a single wild elephant. Tigers will be a fading memory. Wolves will be gone. My son will live to see the last of the great megafauna go down to extinction.

Get out in the forests and wilderness to experience the shreds of nature remaining to us. It will soon be all gone.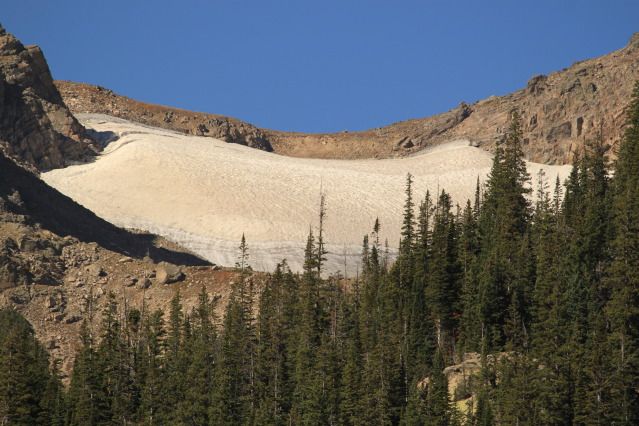 Click on image to see its original size
Fading glacier. One tiny indication of what we have done to Mother Earth.