On Sunday I went on a 14-mile hike in the "new" section of South Mountains State Park. Of course the newly-added 8500 acres aren't new...just their status.
As you guys all probably know, the South Mountains has/had a LOT of hemlocks trees. Some groves I'd hike through in the bottoms were overwhelmingly hemlock in the old days. Still are, of course, but dying.
So we approached the new section from the south, which was new for me. I generally enter the park via the park entrance from the north. This involved hiking through a horrid clear cut in the wildlife refuge and gaining 1400 feet pretty quickly. It was a tough hike.
And here's what I noticed:
As always, the old and middle-aged hemlocks are devastated from hwa. However--and this really puzzles me--the hemlock saplings and young trees seem to be completely unaffected by hwa. I know you can't always see the adelgid cotton, but I'll be damned if I could find any sign of infestation on any of the small trees I examined. Everything from tiny sprouts up to eight-foot trees looked perfectly healthy. There were literally DOZENS of young hemlocks along one logging road cut that were fine and green and full of life.
What gives?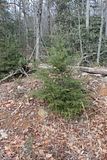 Click on image to see its original size